"You don't sell public health care – you defend it!"
Today, December 27th 2012, is a black day in Spanish social services history. The Madrid Assembly approved a law which allows the "externalization of the management" of various hospitals in Madrid. This means privatization with public monies heading into private management pockets and patients being expected to pay for medical services or being obliged to take out costly medical insurance as in the US.
Spain has free medical services and this is the first step toward privatizing medicine in this country and making life even harsher for the 5.6 million unemployed and people who have lost their jobs and their homes, as well as those upon whom the Rajoy government is forcing wage cuts.
The President of the Comunidad de Madrid, Ignacio Gonzalez, who has been instrumental in forcing this legislation through, has had the gall to say that he is willing to enter into a dialogue with striking doctors protesting against this neoliberal axe coming down on the socialized medical services in Madrid. It will not be too long before other regions in Spain follow suit as the central government prefers to save the bankers by having the public pay for their errors and embezzlement. The EU bailouts will eventually fall on to the shoulders of the public with higher direct and indirect taxes and by having their social services and right to a decent education for their children cut to the bone.
The Protests!
On December 16th thousands Spanish public health workers and other people marched from four main hospitals in Madrid to converge on a main square in the capital Sunday, protesting the regional government's plans to restructure and part-privatize the sector.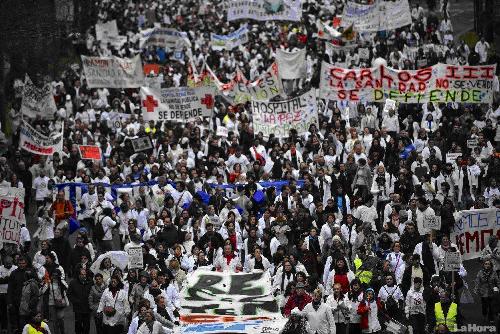 The marches, described as a "white tide" because of the color of the medical gowns many were wearing, finally met mid-afternoon in the central Puerta del Sol. On Monday, the region's health councilor will meet with a committee responsible for coordinating professional services and union representatives to try and agree how to achieve €533 million (US$697 million) in savings.
In early July the EU agreed to bail out the Spanish banks with US$123 billion on the condition that the Spanish government implements austerity packages to cut public spending. Bearing in mind that it was the banks' greed and risky lending to overpriced real estate projects which sparked the financial crisis in Spain, combined with a national debt that is more than 60% of the GDP, the public is now having to pay for these "misjudgments" which will eventually force Spain into the status of a third world country again.
During the protest march doctors, nurses and public health users — grouped into four columns —marched from leading hospitals located in the north, south, east and west of the capital.
"Our health care system is going to be damaged," said Alberto Garcia, 26. "Patients are doomed to get a much worse service and this will just make us poorer."
Health care and education are administered by Spain's 17 semi-autonomous regions rather than the central government and Madrid proposes selling off the management of six of 20 large public hospitals and 27 of 268 health centers to private corporations.
The Spanish Debt
Spain's regions are struggling with a combined debt of €145 billion (US$190 billion) as the country's economy contracts into a double-dip recession triggered by the 2008 real estate crash. By electing a neo liberal government such as that of Rajoy and the Francoist Partido Popular, the Spanish voters are really getting what they voted for. At least Rajoy is true to his "principles" and he is rewarding the Spanish population with:
• Foreclosures

• Unemployment

• Austerity

• Hunger

• Police brutality

• More taxes

• Impunity for most bankers

• Homelessness

• Medical services being privatized

• Human dignity being stripped away month after month
The Numbers
Just look at the figures. The Spanish capital needed just US$697,000,000 to save the public health service but the banks which effectively screwed themselves and the country got US$123,000,000,000. Madrid only needed 0.57% of this amount to maintain the integrity of its health system and prevent it falling gradually into capitalist hands. What about families with children who are destitute? Is there no compassion left when it comes down to saving the "too big to fail banks", by denying bankruptcy which is one of the fundamental pillars of capitalism. It cleans out the system of the diseased and weak.
No-one can tell any right thinking person that this is not a political-ideological decision. With just one iota of political will this total injustice could have been avoided.
Some Enlightening Comparisons
Venezuela: Here in Venezuela we are watching in horror as Spain is gradually morphing into Greece II and at the same time observing how in our country: houses are being built for poor families; a national health service is being constructed piece by piece; banks are too scared to take unnecessary risk too feed their greed since they know that they will be immediately nationalized.
Hundreds of Venezuelan families who sold everything and moved to Spain in order to escape the Chavez "tyranny" are now homeless, jobless and cannot get back to their home country. They are appealing to the Venezuelan government to repatriate them, give them work and put them on the list for a home of the Grand Housing Mission currently underway in Venezuela. How ironic is it that 95% of Venezuelan residents in Spain voted against President Chávez in the October 7th presidential election – and now they are begging to be saved from their own folly – just like the bankers.
While we empathize with the Spanish people and the looming loss of their health-care system to the capitalists, many must accept part of the blame by voting in Rajoy and his neoliberal gang of thug ministers.
The UK and NHS: What is happening in Spain is inevitable and a similar situation is developing in the UK where the Welfare Reform Bill has passed the two Houses of Parliament and signed into law by the Queen. This implies at least partial privatization of the National Health Service but the silver lining of this dark cloud for the British public could mean that the Conservative and Liberal Democrat Parties could be banished for many decades from government for this betrayal of British voters. Just use Google to discover that no-one – Conservative, Liberal Democrat or Labour – would have voted to privatize even part of the UK National Health Service.
Higher education is now out of reach except for all but the wealthy (university applications are down by 54% this year) and the beloved National Health Service could also soon be sacrificed to the neoliberal ideology of David Cameron who is ensuring that public money is poured into private coffers.
Rajoy and his gang in Spain will also be dumped in the next elections by the voters. If you are in service to the banks and big business expect the end of your political career to come sooner rather than later in the financial maelstrom of the crumbling European Union edifice.
Related articles
It's Our Economy, the organization I co-direct with Margaret Flowers, MD, Single Payer Action and 50 doctors filed an amicus brief in HHS v. Florida, the challenge to the Affordable Care Act being heard in the Supreme Court this week.
We support health care reform but oppose the insurance mandate.  Merely removing two words from existing law will achieve the President's stated goals of universal, affordable and guaranteed health care.  By removing the words "over 65" from the Medicare law, every American will have health care based on a proven public health care model that has been in existence since 1965.  This will control costs and immediately provide health care to everyone in the United States.
Forcing Americans to buy insurance is both unconstitutional and bad policy.  Even the most favorable estimates of the Affordable Care Act predict that tens of millions of Americans will not have health insurance when it is fully implemented in 2019. The number of employers offering health benefits will decline under the ACA pushing employees into the individual insurance market where coverage is skimpier and more expensive.  The cost of premiums continues to rise and insurance coverage continues to shrink, putting patients at risk of personal bankruptcy when they suffer a serious accident or illness.
The United States already spends enough to provide health care to all.  As the amicus brief states:
Studies conducted by the nonpartisan General Accounting Office and the nonpartisan Congressional Budget Office have consistently concluded that if a national single payer system were implemented in the United States, administrative cost-savings alone would be enough to guarantee universal coverage without increasing overall healthcare spending.
In addition, improved Medicare for all will slow the growth in the cost of health care. The cost of health care under Medicare is growing more slowly than private insurance-based health care, despite the fact that it deals with America's elderly and disabled populations, groups that generally need more health care services.  Unlike private insurance, under Medicare the increased cost is not due to administrative costs and bureaucracy. Medicare's administrative costs have been consistently about 2% while private insurance is 16% administrative costs.
Instead, the ACA builds and expands the system of private insurance. This system is among the least efficient of any healthcare system currently operating in developed nations.  The brief states:  "In 2009, 28 healthcare expenditures accounted for 17.4 percent of GDP in the United States, compared with only 9.6 percent in the average OECD [The Organization for Economic Co-operation and Development] nation" and "measured per capita, healthcare expenditures in the United States 'are by far the highest among OECD countries.'"
Medicare provides health services that people like, as the brief points out:  "In addition to achieving universal coverage for Americans aged 65 and older and maintaining consistently low administrative costs, Medicare is also highly rated by senior citizens who are its primary beneficiaries – 51 percent of whom give their health insurance an 'excellent" rating.'"
If the US Congress had considered an evidence-based approach to health reform instead of writing a bill that funnels more wealth to insurance companies that deny and restrict care, it would have been a no brainer to adopt improved Medicare for all. All the data points to a single payer system as the only way to accomplish universal health care and control health care costs.
It is also bad precedent to allow the federal government to mandate all Americans buy a corporate product.  This takes corporate welfare to new levels of extreme.  If this is upheld, will a future president facing an economic crisis require Americans to buy cars made in the USA – of course, with a government subsidy?  Or, will the pension crisis in the United States be 'solved' by setting up a pension exchange of JP Morgan, Bank of America, Well Fargo, Chase and Citibank and require Americans to buy a federally subsidized pension from Wall Street?
Finally, an improved Medicare for all system will give everyone in the United States the greatest control of their own healthcare.  The insurance industry will be removed from between doctors and patients.  Doctors will not have to convince an insurance, profit-minded, bureaucrat to pay for a treatment.  And, people will no longer be threatened with increased premiums, decreased coverage and financial ruin caused by an insurance industry that puts profits before people.
We filed the amicus brief because forcing people to purchase a flawed product, private health insurance, is not necessary and will not achieve the goals of universal, guaranteed and affordable health care. There is a health care model in the US already that will achieve these goals – that's improved Medicare for all. Medicare for all is constitutional and simple to attain – just drop a few words from existing law and we will be on the path to joining the rest of the civilized world when it comes to health care.
Kevin Zeese is executive director of Voters for Peace.
More Links

Looking for something?

Archives

Categories

disclaimer

This site is provided as a research and reference tool. Although we make every reasonable effort to ensure that the information and data provided at this site are useful, accurate, and current, we cannot guarantee that the information and data provided here will be error-free. By using this site, you assume all responsibility for and risk arising from your use of and reliance upon the contents of this site.

This site and the information available through it do not, and are not intended to constitute legal advice. Should you require legal advice, you should consult your own attorney. Materials accessible from or added to this site by third parties, such as comments posted, are strictly the responsibility of the third party who added such materials or made them accessible and we neither endorse nor undertake to control, monitor, edit or assume responsibility for any such third-party material.

The posting of stories, commentaries, reports, documents and links (embedded or otherwise) on this site does not in any way, shape or form, implied or otherwise, necessarily express or suggest endorsement or support of any of such posted material or parts therein.

Fair Use

This site contains copyrighted material the use of which has not always been specifically authorized by the copyright owner. We are making such material available in our efforts to advance understanding of environmental, political, human rights, economic, democracy, scientific, and social justice issues, etc. We believe this constitutes a 'fair use' of any such copyrighted material as provided for in section 107 of the US Copyright Law. In accordance with Title 17 U.S.C. Section 107, the material on this site is distributed without profit to those who have expressed a prior interest in receiving the included information for research and educational purposes. For more info go to: http://www.law.cornell.edu/uscode/17/107.shtml. If you wish to use copyrighted material from this site for purposes of your own that go beyond 'fair use', you must obtain permission from the copyright owner.
Visits Since December 2009

Contact:

atheonews (at) gmail.com

Tags

Latest Comments