How the News Agenda is Set
David Cameron gets heckled every day of his life. The media never bother to report the names of the hecklers or the gist of what they say.
Yet a single heckler shouts at Jeremy Corbyn at Gay Pride, and not only is that front page news in the Guardian, it is on BBC, ITN and Sky News.
What makes a single individual heckling a politician newsworthy? There are dozens such examples every single day that are not newsworthy.
The answer is simple. Normally the hecklers are promoting an anti-establishment view, so it does not get reported. Whereas this heckler was promoting the number one priority of the establishment and mainstream media, to get rid of Jeremy Corbyn. So this heckler, uniquely, is front page news and his words are repeated at great length in the Guardian and throughout the broadcast media.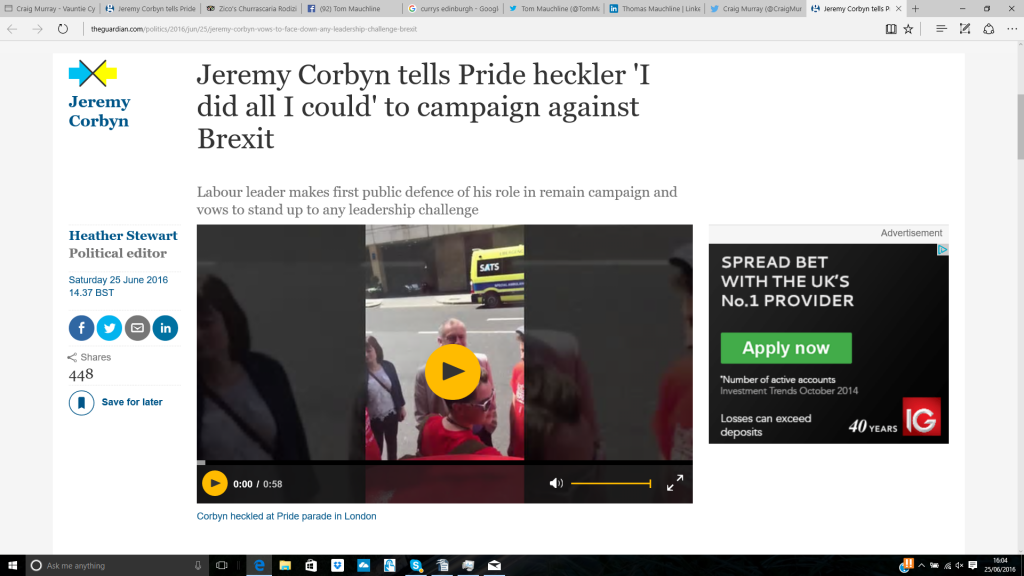 The impression is deliberately given that he reflects general disgust from young people, and particularly gay young people, at Corbyn over the EU referendum. The very enthusiastic reception for Corbyn at Gay Pride is not reported.
Nor is the fact that the incident was not a chance one. The "heckler" is Tom Mauchline, a PR professional for PR firm Portland Communications, a dedicated Blairite (he describes himself as Gouldian) formerly working on the Liz Kendall leadership campaign. Portland Communications' "strategic counsel" is Alastair Campbell.
So far from representing a popular mood, Mauchlyne was this morning on twitter urging people to sign a 38 Degrees petition supporting the no confidence motion against Corbyn. Ten hours later that petition has gained 65 signatures, compared to 120,000 for a petition supporting Corbyn. Mauchline formerly worked for 38 Degrees, unsurprising given their disgraceful behaviour over the Kuenssberg petition. I am waiting for the circle to be squared and Kuenssberg to report on the significance of Mauchline's lone heckle.
I find it incredible that the mainstream media are all carrying this faked incident while not one single mainstream journalist has reported who Mauchline really is.
2 Comments »
"I find it incredible that the mainstream media are all carrying this faked incident while not one single mainstream journalist has reported who Mauchline really is".

Why are you surprised? That's how "Presstitution" works. Why are people flocking to Internet news sites like Aletho, and Offguardian and so many others? Because Mainstream Media is now completely untrustworthy. If the MSM says something, believe the opposite.

Comment by Brian Harry, Australia | June 26, 2016 |

The MSM is always "managed" "news" (check out CNN-Zionist Blitzer, but have your barf bag with you), with esp. the Palestinians and their cause "managed out."

Comment by roberthstiver | June 27, 2016 |
More Links

Calendar

Archives

Tags

Latest Comments
Visits Since December 2009

Contact:

atheonews (at) gmail.com

Looking for something?

Categories

disclaimer

This site is provided as a research and reference tool. Although we make every reasonable effort to ensure that the information and data provided at this site are useful, accurate, and current, we cannot guarantee that the information and data provided here will be error-free. By using this site, you assume all responsibility for and risk arising from your use of and reliance upon the contents of this site.

This site and the information available through it do not, and are not intended to constitute legal advice. Should you require legal advice, you should consult your own attorney.

Nothing within this site or linked to by this site constitutes investment advice or medical advice.

Materials accessible from or added to this site by third parties, such as comments posted, are strictly the responsibility of the third party who added such materials or made them accessible and we neither endorse nor undertake to control, monitor, edit or assume responsibility for any such third-party material.

The posting of stories, commentaries, reports, documents and links (embedded or otherwise) on this site does not in any way, shape or form, implied or otherwise, necessarily express or suggest endorsement or support of any of such posted material or parts therein.

The word "alleged" is deemed to occur before the word "fraud." Since the rule of law still applies. To peasants, at least.

Fair Use

This site contains copyrighted material the use of which has not always been specifically authorized by the copyright owner. We are making such material available in our efforts to advance understanding of environmental, political, human rights, economic, democracy, scientific, and social justice issues, etc. We believe this constitutes a 'fair use' of any such copyrighted material as provided for in section 107 of the US Copyright Law. In accordance with Title 17 U.S.C. Section 107, the material on this site is distributed without profit to those who have expressed a prior interest in receiving the included information for research and educational purposes. For more info go to: http://www.law.cornell.edu/uscode/17/107.shtml. If you wish to use copyrighted material from this site for purposes of your own that go beyond 'fair use', you must obtain permission from the copyright owner.

DMCA Contact

This is information for anyone that wishes to challenge our "fair use" of copyrighted material.

If you are a legal copyright holder or a designated agent for such and you believe that content residing on or accessible through our website infringes a copyright and falls outside the boundaries of "Fair Use", please send a notice of infringement by contacting atheonews@gmail.com.

We will respond and take necessary action immediately.

If notice is given of an alleged copyright violation we will act expeditiously to remove or disable access to the material(s) in question.

All 3rd party material posted on this website is copyright the respective owners / authors. Aletho News makes no claim of copyright on such material.